We recently completed an interesting process improvement project for a large, regional provider of commercial air conditioning services, and the results achieved were impressive. The objective of the project was to improve every aspect of the service dispatching process, in order to dramatically increase customer satisfaction, and customer's willingness to refer new customers to our client.
In the early stages of the project, we implemented a Lean Six Sigma process
improvement team, and put in place a monthly "Voice of Customer"satisfaction survey. The VOC survey was deployed via telephone, and included a rapid response feature if any service recovery incident was discovered.
Improvement actions taken by the process improvement team included dispatcher software application training, establishment of standard operating procedures, data entry error tracking, routine customer call backs, etc..
As you can see from the following Performance Management Dashboard, our client's customer satisfaction scores improved 10 percentage points to an impressive 95%.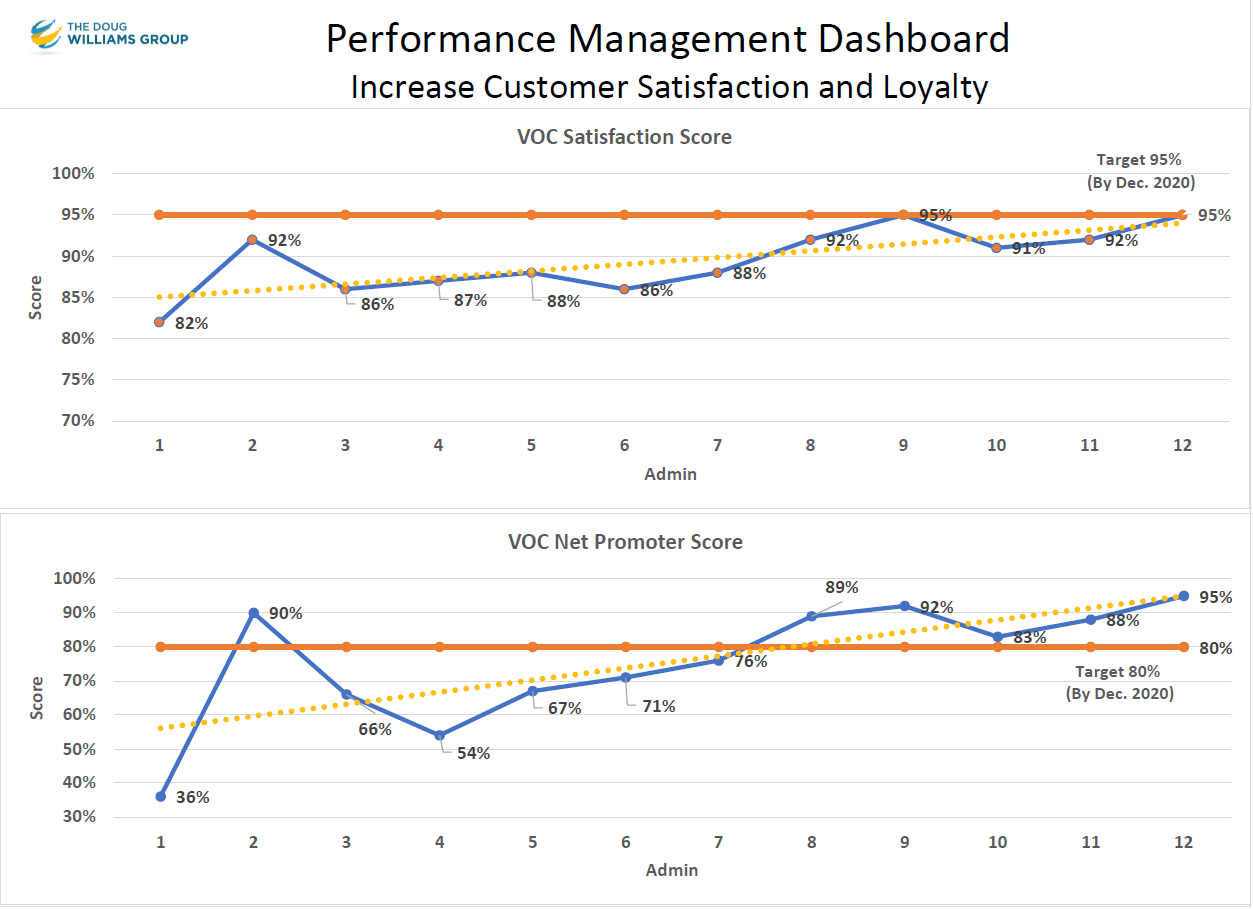 Even more impactful was the 40 point increase in their loyalty metric, Net Promoter Score (NPS), to 95%. To put the NPS result in perspective, of those NPS practitioners who publish their data, the highest performing company in the highest performing industry sector (the best of the best), scored 74% (2019 data).
It gets even better. Once we started seeing the increase in NPS, we started asking customers whether they would be willing to have a follow-up call from our client, for the purpose of securing a referral. The response was very positive; 194 customers were willing to make an introduction to a prospective new customer. Subsequent follow-ups secured over 1.2 million dollars in annualized incremental revenue.
You have to agree…..those are Impressive Results!
I hope that you have enjoyed this issue of Taking Action. If we can assist you in your efforts to improve your organization, don't hesitate to contact me at our Palmetto Bay office (305-964-55595) or via my email: doug@thedougwilliamsgroup.com.
Warm personal regards,
Doug Williams
Chief Executive Officer