Unfortunately, one of our municipality clients had earned a bad reputation with developers and contractors because of the time it took to get building permits approved. Complaints about inconsistent interpretation of building codes, long permit processing delays, and poor customer service were lodged with the City Manager and Building Official on a regular basis.
As frustration grew, a prominent developer insisted that our client conduct a formal review of the permitting process, and remove the approval bottlenecks. If things didn't get better, the developer said that he was going to build his projects in another city.
In response, a Customer Satisfaction Improvement System was put in place to get monthly feedback from customers about how the permitting and inspection processes were working. The system was critical to our client's success, because it enabled:
Ongoing monitoring of customer's satisfaction with the permitting and inspection processes, via brief telephone conversations with randomly selected customers. Monitoring included rating the customer experience, and solicitation of specific comments and improvement suggestions
Immediate "service recovery" follow-up with any customer who provided a "very dissatisfied" satisfaction rating, to ensure complete resolution of the customer's issue.
Ongoing reporting and review of customer satisfaction scores, comments, and improvement suggestions. The review is conducted by an intra-department process improvement team charged with acting on selected improvement opportunities.
The impact of our client's improvement initiative was immediate and powerful. Customers really appreciated being asked for their feedback and customer satisfaction scores dramatically improved as a result of the work of the process improvement team.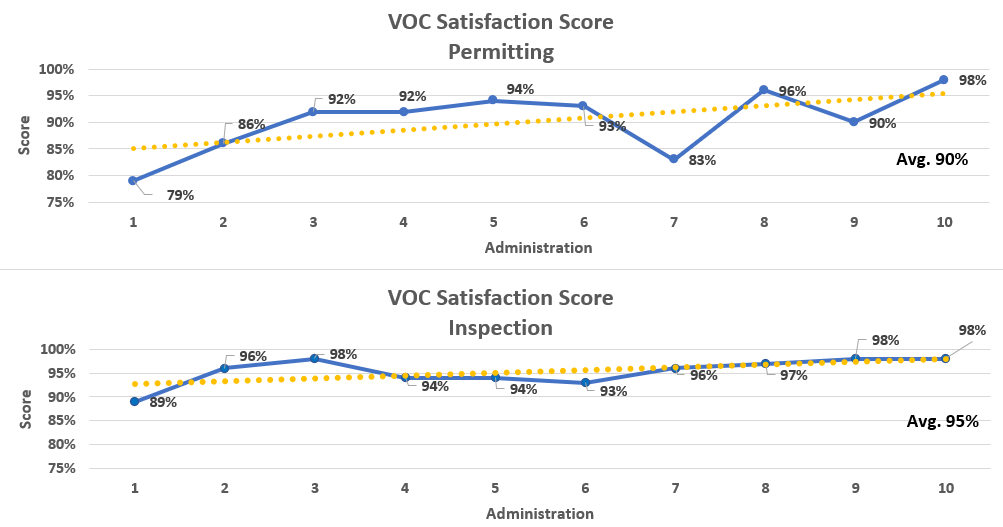 "I was very hesitant to work with you again, because I worked with you guys some years back and it was horrible. This time I can honestly say that it was great. Your staff has been excellent, quickly responding to my calls/emails, and your online system is very easy to use. I went from not wanting to work with you guys to now wanting to do more projects with you in the future."
"In my 18+ years in this line of work I have never been contacted by a city to follow up on our experience. This is a prime example of great customer service. Thank you very much for always providing excellent service."
"People have asked me what it is like working with your city. I tell them that it is a great experience and that the city has done a great job adjusting to new changes and requirements. Your city is one of the top three municipalities to work with in South Florida"
Here are a few representative customer comments that illustrate the potential impact of this system on the city's economic development.
I hope you enjoyed this issue of Taking Action. If you would like more information about how this client got these impressive results, please contact me via email (doug@thedougwilliamsgroup.com), cell phone (305-926-7526), or at our corporate offices (305-964-5595). You can learn more about us by viewing our website (www.thedougwilliamsgroup.com)
Warm personal regards,
Doug Williams
Chief Executive Officer